RightFax Fax Server
RightFax fax server software improves the flow of your company's vital information through business-critical fax and document distribution. Whether your organization is small, medium or large, the RightFax network fax server increases employee productivity and decreases paper-based operational costs.
Your business faces increasing pressure to improve employee and process productivity, and to reduce operational costs. OpenText RightFax meets these challenges by integrating and automating fax and document distribution with your existing business applications. This lets you reduce costs, increase employee productivity, and decrease risks associated with stand-alone fax machines and unsecure email communications.
RightFax, the market-leading network fax server solution, automates time-intensive manual paper-driven processes by integrating them into your business applications and systems. Learn how the benefits of RightFax save you time and money by redefining and modernizing fax and document distribution within your company.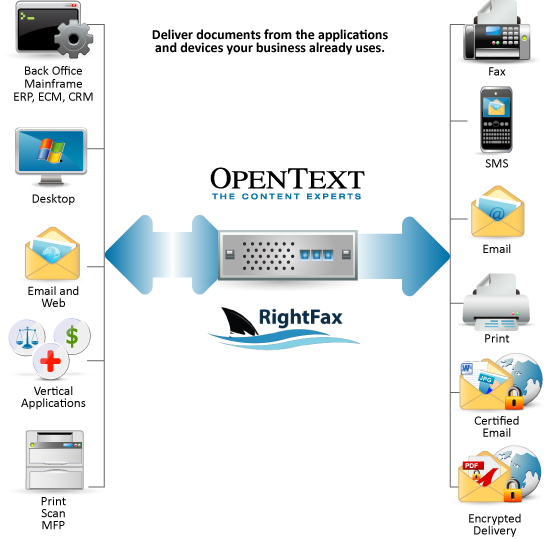 Quickly impact your ROI by streamlining document workflow, reducing costs and increasing productivity.
Lower costs
Increase employee efficiency with fax to email and email to fax
Integrate fax seamlessly from within business applications
Send and receive faxes by integrating fax with your MFPs/MFDs
Unify communications for voice, data and fax
Prove compliance and improve audit-readiness
RightFax fax software has met these needs for 25 years. It continues to lead the market by integrating secure fax automation into email, front offices, back offices, the web, MFPs, and nearly any system or application.
Fax Over IP
Organizations adopting an IP telephony environment can further streamline their messaging infrastructure by enabling Fax over IP support.
Fax over IP (FoIP) is becoming more prevalent in organizations of all sizes as they look for ways to reduce costs and consolidate resources. For companies adopting or transitioning to FoIP, Open Text Fax Server, RightFax Edition (formerly Captaris RightFax) offers a proven, robust, and secure fax document delivery engine they can rely on.
As technology continues to evolve, it becomes easier to have all of your business communications delivered to one convenient location-your email inbox. Think of all the ways you access your email: desktop, laptop, PDA, a kiosk at the airport… And now, with so many companies making the transition to Voice over IP, you can get your voice mail messages at the same time you check your email. Add fax to the mix and you're on a roll!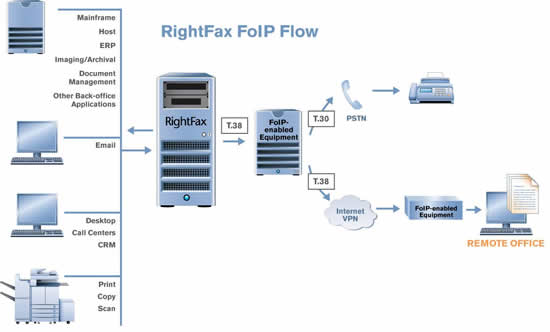 Fax over IP Toolkit

Virtualize your fax environment
with a complete FoIP solution.
| | |
| --- | --- |
| | Fax Gateways |
Leverage your network resources and reduce costs with a complete IP and software-based fax solution.
Open Text Fax Gateways are purpose built and pre-configured to simplify Fax over IP (FoIP) implementations, providing a cost effective alternative to traditional fax boards and remote fax servers. Deploying an Open Text Fax Gateway together with Open Text Fax Server, RightFax Edition represents a complete solution offering that maximizes your IP infrastructure, facilitates network consolidation, and simplifies branch office fax management.
Benefits of the Open Text Fax Gateway Solution for Software-based Fax over IP
Simplify the distribution of network fax communications with purpose built Fax Gateways, optimized to work with T.38 and Fax Server
Bridge the gap
circuit (i.e., telephone) and IP communications
Support real-time Fax Server connections using T.38 and standards-based SIP
Deploy real-time software-based FoIP without requiring a VoIP ready network
Support a broad range of communications systems, including TDM (T1/E1), PBX, Key Systems and dedicated PSTN trunk circuits
Provide a standards-based architecture enabling FoIP interoperability in almost any environment
A Complete FoIP Solution

| | |
| --- | --- |
| | Secure Docs |
RightFax SecureDocs provides a centralized and secure document delivery solution enabling certified document exchange with third parties via the fax server.
With the heightened concern for protecting information privacy, preventing fraud, and meeting tightened regulatory compliance guidelines, having secure and confirmed delivery options for sensitive information is vital to conducting business. SecureDocs brings together the best of fax and email to provide a centralized and secure fax and electronic document delivery solution that safeguards the transmission of your business documents from both the desktop and back-office applications.
Why SecureDocs?
While email and FTP sites are often considered the primary vehicles for transferring electronic information, they do not meet the security or regulatory requirements for the electronic exchange of sensitive documentation.
Standard email is not private and has no audit trail or delivery confirmation.
Email systems restrict oversized attachments
Users and organizations are reluctant to use FTP sites
Email does not integrate for automated high-volume document deliveries
Benefits and Features
SecureDocs is an add-on module to OpenText RightFax that leverages the ubiquity of email as well as the security and auditing features built in to RightFax.
Confirmed email delivery
Encrypted and secure documents
Files delivered in native format (i.e. Excel)
Time stamped delivery verification
Secure delivery of application generated documents
Easy administration and auditing
Support for high-resolution and color documents